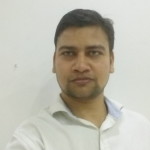 Dr. Ruchir Gupta (Founder)
Dr. Ruchir trains traders on WD Gann Trading Methods. He is young and Passionate about his training and he wants to bring a change in trading.  While most traders only use price he started stressing on Market Timing. He knows better than many other trainers out there. As a feedback he came to know that his Gann Methods generate instant profits. The Financial Market Traders even accepted that they did not earned such enormous profit using any other Gann or other Technical trading courses out in the market.
Dr Ruchir has clearly established himself as a Authority on few the WD Gann Trading Methods, although he is reseraching on more methods. Ruchir very honestly accepts that he does not know all the WD Gann Trading Methods and he also challenges that no one can claim that they know all Gann secrets.
Also, he very humbly clarifies that there are many people who are teaching Gann, however the each person had his own journey and they discovered different things in that search. So student should not compare the trainers based on Gann but the potential of the methods which that student is going to learn.
Dr Ruchir as investor during his college days as a fundamental investor. His passion of Trading continued in when he working for MNCs and he learned Technical Methods after finishing his day work. After being not able to give sufficient time for his trading he quit the job and developed as a full time trader and did deep study of Gann Methods and Elliott Waves.
His passion for trading did not just got limited to trading, but he started thinking about teaching and helping out other traders. To fulfill this objective he founded WD Gann Trading Methods and started teaching to Traders and Investors his own methods of profitable trading.
Apart from Gann and Elliott waves Ruchir also has rich experience of Candle Sticks, Moving Averages, Oscillators, Trendlines and Pattern Trading.
He has also written many books on Trading and Technical Analysis.
He is also a Motivator, Philosopher, still researching on Metaphysics and looks things from a different view. He not only trains the traders on Techniques but also works on their psychology for the better results. For this he also comes with a rich experience on Neurological Training.
His ultimate goal is establish a Trading School where people can get 360 degree training on Markets.
Facebook Profile:
LinkedIn Profile:
Twitter Profile:
Google+: