Gann Nifty Trading Cycles
Now Gann Nifty Trading Cycles includes more cycles:
Gann Nifty Trading Cycle1- This the initial cycle this course start with. Fees- Rs 28,000
Gann Nifty Trading Cycle2-3-4-5- Fees Rs 28,000
The Nifty Astro Cycle 2 to 5 are also based on Financial Astrology (Astronomy) or Gann Cycles.
All the above cycles could be learned at Rs 46,000. First Nifty Astro Cycle is must to initiate the Nifty Gann Cycle course.
Gann Nifty Trading Astrology Cycle Bunch 2- These are separate cycles for nifty
Cycle A + B + C- Fees Rs 19,000
Data will be provided for the cycles , such that you will know many years in advance when the cycle date is going to take place.
Proof of Gann Nifty Monthly Cycle- Cycle-1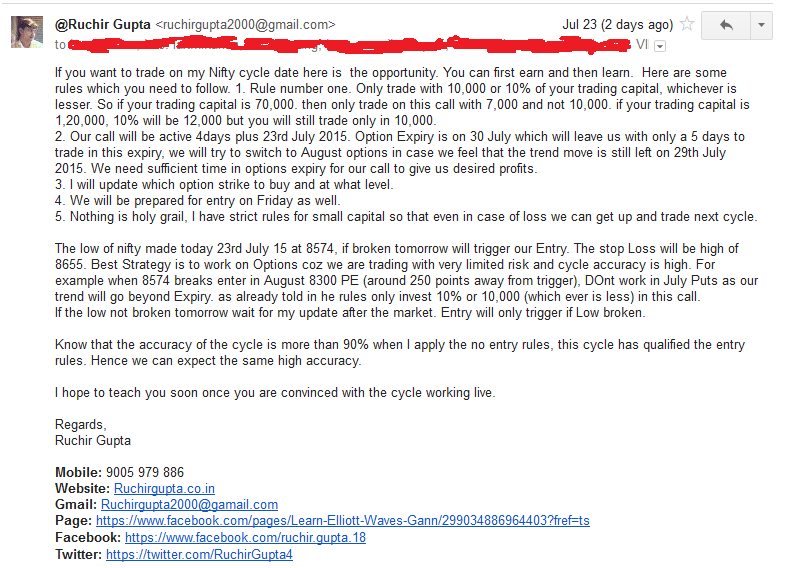 Here is the Proof of my Nifty Gann Cycle-1. The mail which I already did on 23rd July to Students and clients.
Gann Nifty Astrology Cycle Course is for Patient Traders who don't want to waste their energy, time and money in trading 2 minutes charts. The traders who can't track nifty every minute can benefit from this course as this trading is done on 1 hour and 1 day basis.
Let me tell you that there is no astrology involved in this course, it is just the planetary movement which be used to identify the swing trading opportunities. It's so easy that it could be mastered in just in 30 minutes. However, you will get 5 to 6 hours of guidance to test the historical moves and really appreciate and get confident that cycle really works beautifully on NIFTY.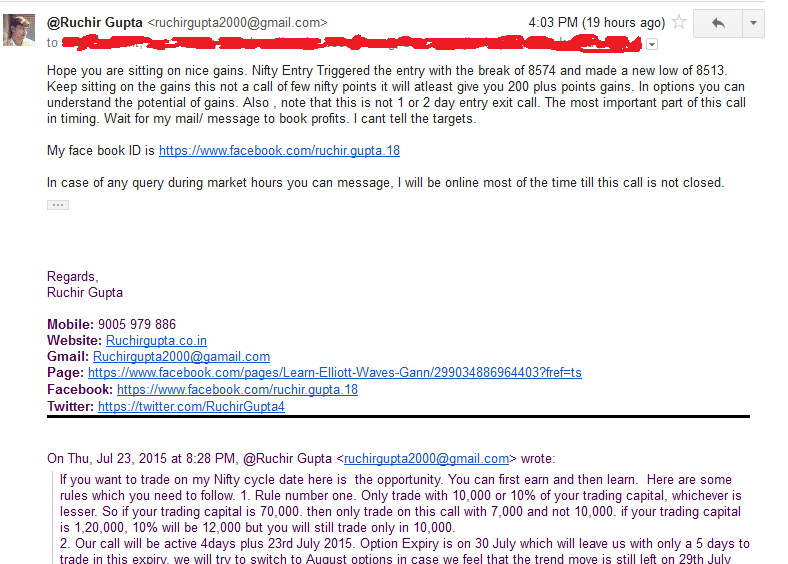 What will you get from Gann Nifty Monthly Cycle Course?
You will get the planetary data from my side in the beginning of the course
To get a swing trading opportunity for 5% in NIFTY (if Nifty 8000 then 400 points it nifty 7000 then 350 points)
Entry and Exit rules to trade the cycle from when to get in and when to get out and stop revision
A fixed income each month
Trading without wasting time for looking for trading in lot of stocks or in 2 or 5 minute NIFTY charts
What will you learn in This Course
Price Projection
Targets
Risk Reward
When to enter?
How to enter?
What should be the Stop?
When to book profits?
When to revise the Stops?
When to Exit?
Mode of learning and requirements:
It will be a online class by Skype (If you don't have Skype I will help you to download it)
Good Internet connection
Nifty Spot Chart on any online website
Skype connection to listen what I am teaching, and your understanding
A headphone
A pen and note book to take notes of whatever you learn
I have multiplied money many times working on this cycle. Once I bought options at Rs 30 and sold them at Rs 480. It was 16 times or Rs 1,60,000 my trading capital of Rs 10,000.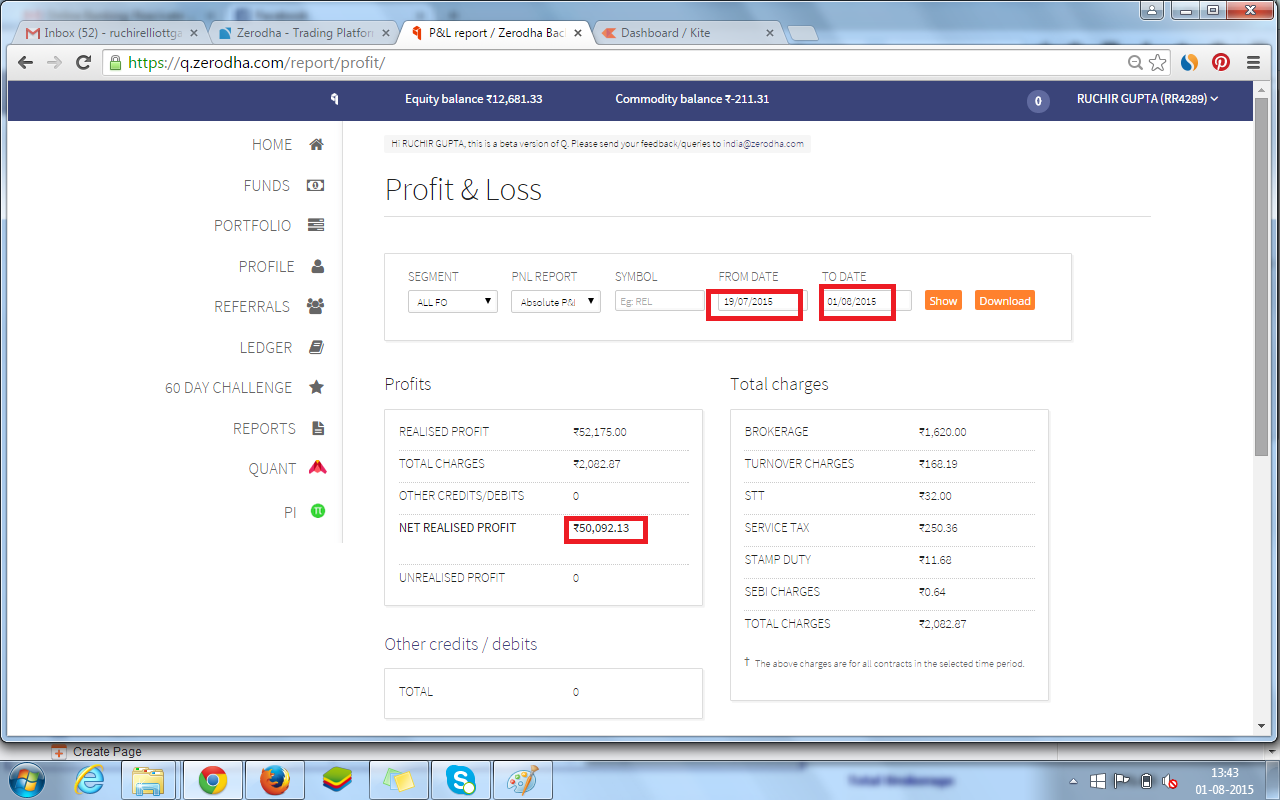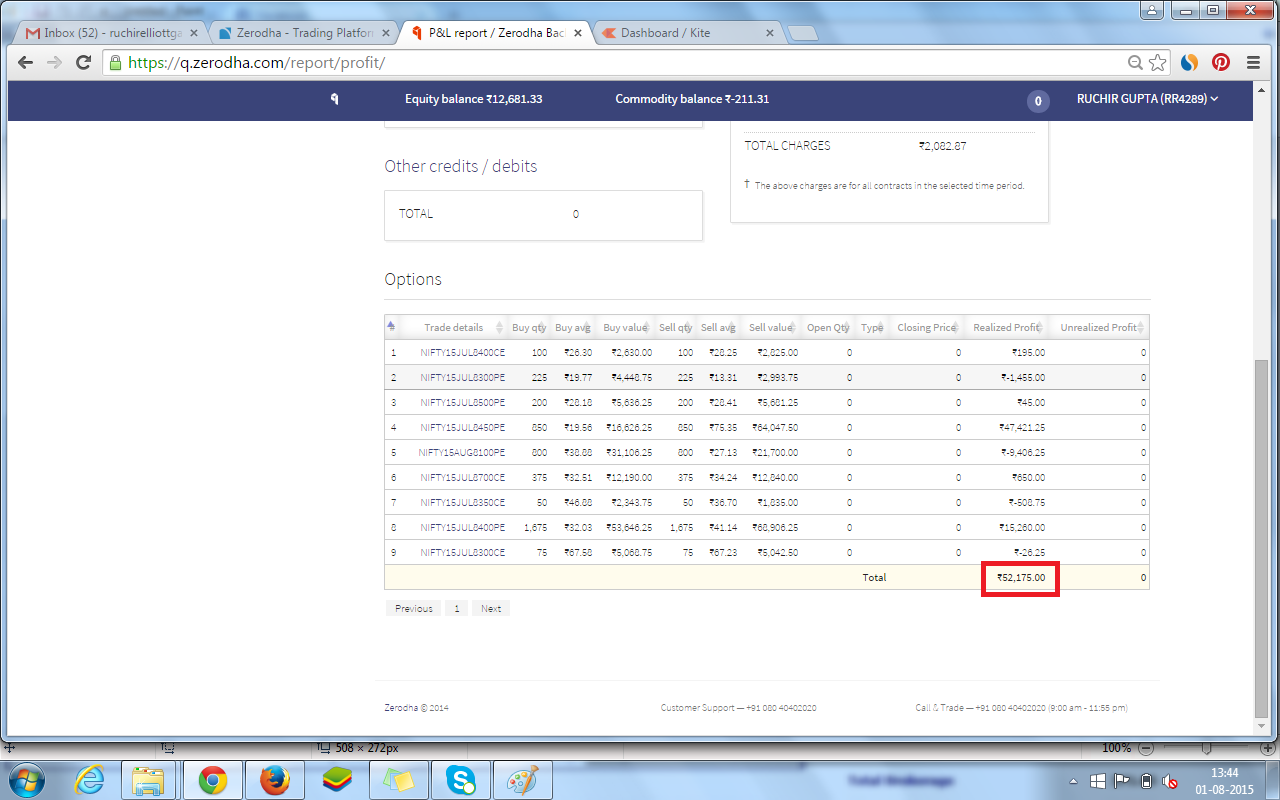 You can deposit the fees and inform me at my Mobile or Email ID, to fix the timings for training. Training timings are flexible. In case of any other questions and queries as well mail me at Ruchirgupta2000@gmail.com or Call at 9005 979 886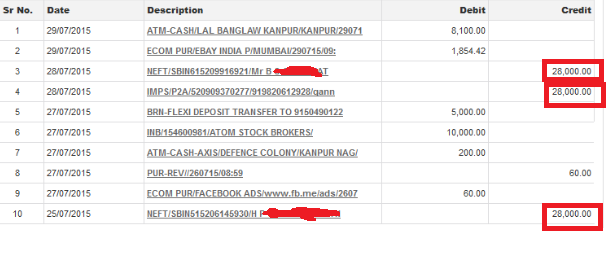 Bank details
Ruchir Gupta
Axis Bank,
Account No. 912010058534970
IFSC Code: UTIB0000131
DLF, Gurgaon (Haryana)
Phase-V, DLF Qutab Enclave complex
Gurgaon, Pin – 122009
Gann Nifty Saturn Cycle Course for investors and HNIs (This course is not open Right now)
Saturn has played a critical role in almost every bear moves. It is the second largest planet of our solar system after Jupiter. Each planet has its Magnetic field which affects the life on the earth. Saturn has a very strong magnetic energy field which affect human psychology.
If full moons can affect lunatics and pull ocean water towards itself and solar storms can cause increase in crimes, why can't other planets also have these effects on us? This is why I am presenting the Saturn's planetary phenomenon in the form of this course.
How will Gann Saturn Cycle Course help you?
You will know in advance what is Nifty/ Sensex is going to do in medium term (2-6 months)
You can hedge your investments
You can look for entering or exiting the market based on the cycle
Bank details
Ruchir Gupta
Axis Bank,
Account No. 912010058534970
IFSC Code: UTIB0000131
DLF, Gurgaon (Haryana)
Phase-V, DLF Qutab Enclave complex
Gurgaon, Pin – 122009