Wave B failure
Previous Elliott Wave analysis on Nifty that suggested Wave B which was expected to go to 8680 levels to complete 62% retracement failed, which is worrisome and now the downside that has started is so steep, that we cant deny to break the recent lows of 7997, all of this is against the characteristics of 4th waves which are sideways corrections. Also, The C waves which are the last sections of the move have low momentum ie they are shallow and not steep like this one we are seeing.
Future Support Levels
Support levels of Downside based on Fibonacci Analysis suggest, 7965 to 7975 zone and then 7637 to 7698 zone. While in Elliott Wave terms the wave A which got over at 7997, which was 1100 points in length when measured from wave B top with various ratios to give wave C targets at 7780 at 62% equality to wave A, 7362 at 100% (which is what happens most of the time as wave A are mostly equal to wave C) and 6670 at 162%.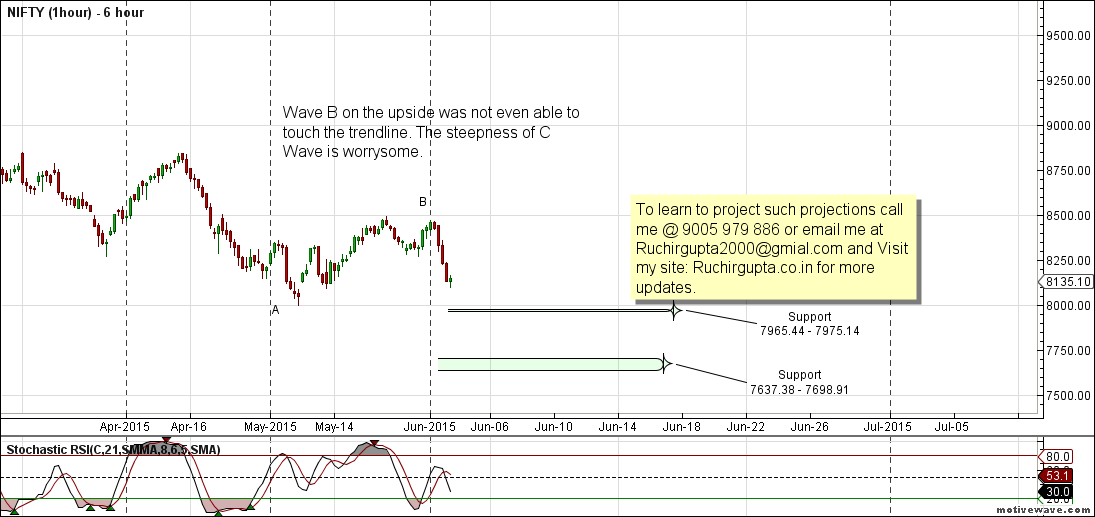 There is a Gann Study which I follow and it unfolds the moves which are 500-800 points in Nifty, its occurrence is very rare(the direction is confirmed only after some evidence is there, Since I had all way views for wave B only towards bull direction because the wave C also suggesting the rally in Wave B (which ultimately failed). Now the direction is clearly down and I am looking for a proper entry point after a rally to get in have my share.
This is just a personal view and neither a recommendation nor a tip nor an advice for any trade. My purpose is purely educational as I believe in empowering the normal investor so that he can do his own analysis and trade for his living and safe himself from rumor or news based buying selling. I have my whole system to trade around these which I teach only to my students. To learn in detail please contact and message me in Inbox. My Email address is Ruchirgupta2000@gmail.com. and number is 9005 979 886 (try to call between 6-7 pm India time)