WD Gann Course for Elliott Wave Trader
Gann and Elliott Wave Methods are one of the best methods for market projection. WD Gann Course for Elliott Wave Trader is made to bring clarity in Elliott Waves Theory. As we all know there are many doubtful junctures at Elliott Waves when it is not clear which side the market will move. An Elliott Wave Trade marks the Preferred and alternative counts or many a times so many doubtful counts emerge.
Once we use the WD Gann Cycles with Elliott Wave Theory all this doubts are eliminated and we then know what is to be expected. In other words using WD Gann Analysis together with Elliott Waves can make your Elliott Wave Trading much much clearer and easier.
The Course doesn't focuses on any Intraday Trading, every thing teached in this course will be positional. There are many Elliott Wave Traders who are using WD Gann Methods with thier Elliott Waves but they never take the name of Gann Methods and want to be ranked number one in Elliott Wave Community.
Glenn Neely, accepts the use the of WD Gann Cycles with his Elliott Waves, this is why he was able to take Elliott Waves to such new highs. Neely said a big move should be either should be preceded or followed by a long period of consolidation, does not that sounds familiar with Gann's squaring time and price?
Robert Prechter, many a Times made fun of WD Gann, while he was publicly never accepted the use of Gann Cycles. He accepts that he uses Hurst Cycles of 54 years and 18 years. He said RN Elliott was a rational person, while Gann was not logical when  Gann talked about Squaring time and price or using squares for support and resistance.
In my opinion Elliott Wave Theory is incomplete without the study of cycles. Fibonacci Time Analysis has helped a lot to many Ellioticians but the WD Gann Cycles are also the part which will do wonders in bringing clarity to Elliott Wave Analysts mind.
Elliott Wave Course (With my Own Secrets)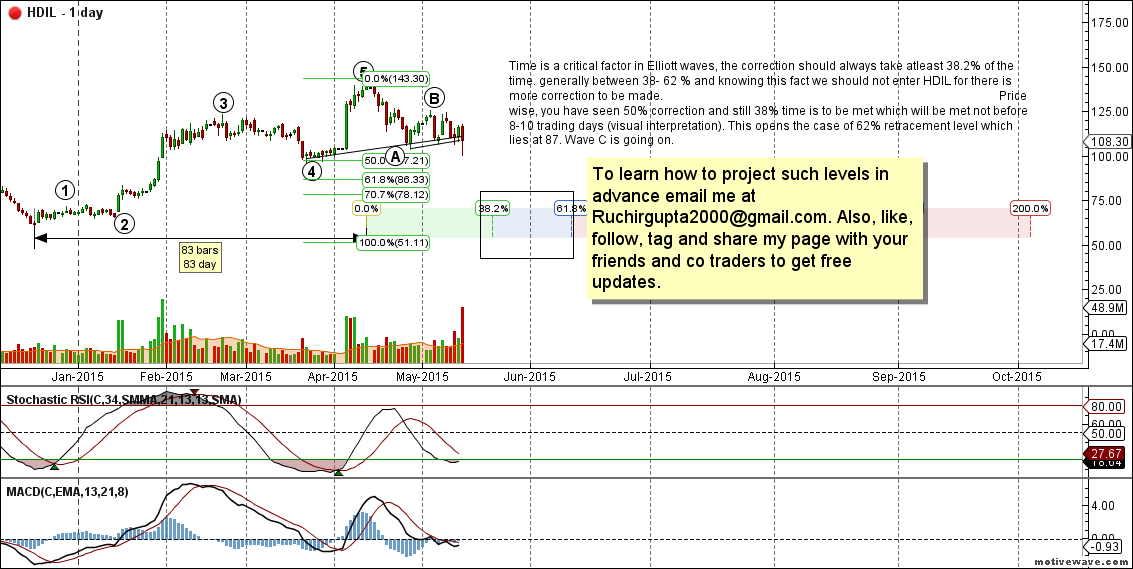 Learn the Elliott Wave Trading Secrets which are discovered by me over the years.
Here are some studies that were published before the moves happened. This is the kind of edge that Elliott Wave Trading provides!
HDIL Update on Elliott Wave Analysis, a broader review 8th June 2015
HDIL Elliott Wave analysis achieved its target today 3rd June 15
Elliott Wave Basics
Introduction to Elliott wave
What is Elliott wave?
Important Rules and guidelines
Psychology behind wave formation
Elliott Wave Impulse wave patterns
Impulses
Leading Diagonals
Ending Diagonals (Though rare but most profitable)
Elliott Wave corrective wave patterns
Flats (3-3-5)
Zigzags (5-3-5)
Triangle (3-3-3-3-3)
Double threes
Triple threes
Classifying the corrective patterns in just 2 categories (this is the edge you will have), people have over complicated it, and we have simplified it.
Elliott Wave typical characteristics
Alternation
Extension
Truncation
Using Channels
Simple Channels
Wave Specific Channels
Channels with in the channels
Apart from WD Gann Cycle Techniques you will also learn the following:
Secret Fibonacci Retracement Specific to each wave (nobody else will you teach you this).
Internal Retracements specific to each wave
Wave within wave retracement and projections
Typical ratios relationships between waves
How to merge them and identify the high probability reversal areas in Advance
Trade Strategy: Entry/ Exit Strategy & Combining all of them together to get a super system of trading
Price Projection
Targets
Risk Reward
When to enter?
How to enter?
What should be the Stop?
When to book profits?
When to revise the Stops?
When to Exit?
Mode of learning and requirements:
It will be a online class
Good Internet connection
Team viewer for remote viewing
Skype connection to listen what I am teaching, and your understanding
A headphone
A pen and note book to take notes of whatever you learn.
This course requires hard work as there will be home work will be assigned to find out certain chart patterns will be given after each class. How to identify the best opportunity amongst, 10- 15 charts available for analysis. It is this hard work which eventually will increase your accuracy. The Fees for the course is Rs 2,50,000 with 3 months support on Skype and Team Viewer.
You can form a group with your fellow traders and plan to study in a batch of 3 or students for 2,25,000 per student. You will also have a Edited video recording of all that you learn which help you remember the course lifelong and this will solve your doubts by viewing the videos.
In case of any other questions and queries as well mail me at Ruchirgupta2000@gmail.com or Call at 9005 979 886
Bank details
Ruchir Gupta
Axis Bank,
Account No. 912010058534970
IFSC Code: UTIB0000131
DLF, Gurgaon (Haryana)
Phase-V, DLF Qutab Enclave complex
Gurgaon, Pin – 122009
Eligibility: You need to know basic Elliott Waves and must be using it for atleast 6 months before qualifying for this course.
Course Duration : 2 Months